The Death of the Slide Rule
Bill Terry, a graduate of the University of Santa Clara, joined HP in 1957 and held positions
in training, sales and corporate marketing before being named marketing manager at
Colorado Springs in 1965. Two years later he became the division's general manager.
By the beginning of 1972, Bill Terry was President of the HP Instrument Group,
after having headed the Data Products Group since 1970.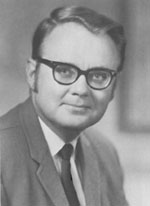 Some thirty years later, in his interview for the video "ORIGINS", Bill Terry recalled:
"One day the phone rang and Hewlett says, "We've got this calculator going on at HP labs." So I went up and talked to Bill and he gave me the market research report that suggested we shouldn't do it. It's going to cost twenty times more than a slide rule !
Then, Bill said, "I WANT one of these things."
That was it. With initial estimate cost of $350 to build the new scientific calculator, it was almost double the average price of standard calculators currently on the market in 1972. The results of the market research ordered by Bill Hewlett weren't heartening. The most optimistic forecast was in the range of 1,000 units per month. But Hewlett had already decided to spend HP's talent on the project, and it was its riskiest and bravest business decision. Immediately after its introduction, sales of the HP 35 went through 10,000 per month, climbing almost straight up.